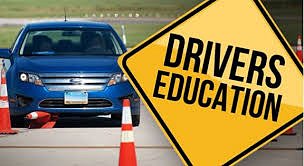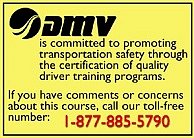 Combo Classroom/Behind the Wheel Price $375.00
Under 18
We offer an onsite Driving Education, which will be conducted at our driving school. You will need to call to register. WE also have online ------------>
Driver Education, which you will be able to take in the comfort of your home or anywhere the Internet is available, Please call 804-469-6380 or
email dinwiddiedrivingschool@gmail.com
"DMV is committed to promoting transportation safety through the certification of quality driver training programs. If you have comments or concerns about this course, call our toll-free number: 1-877-885-5790."
The online program consists of at least 30 hours of instructions and includes components about alcohol safety, drug abuse awareness,
aggressive driving, distracted driving, pedestrian and bicycle safety, handicapped parking, fuel efficient driving practices, motorcycle awareness and organ and tissue donation awareness as required by law. All individuals who elect to take the classroom
component of the driver education course online must take the online course through a DMV licensed driver training school (Below). Home­schooled students are exempt from this requirement. In order to benefit from the course, you must be able to work independently and be comfortable with using a computer.
90 minute parent/teen course is now required for under 18 and can be taken online for our district. You will recieve the link for both classes after payment. This Course is FREE for our Driver's Ed Students